CRITIQUE
WEBSITE DESIGN + CODING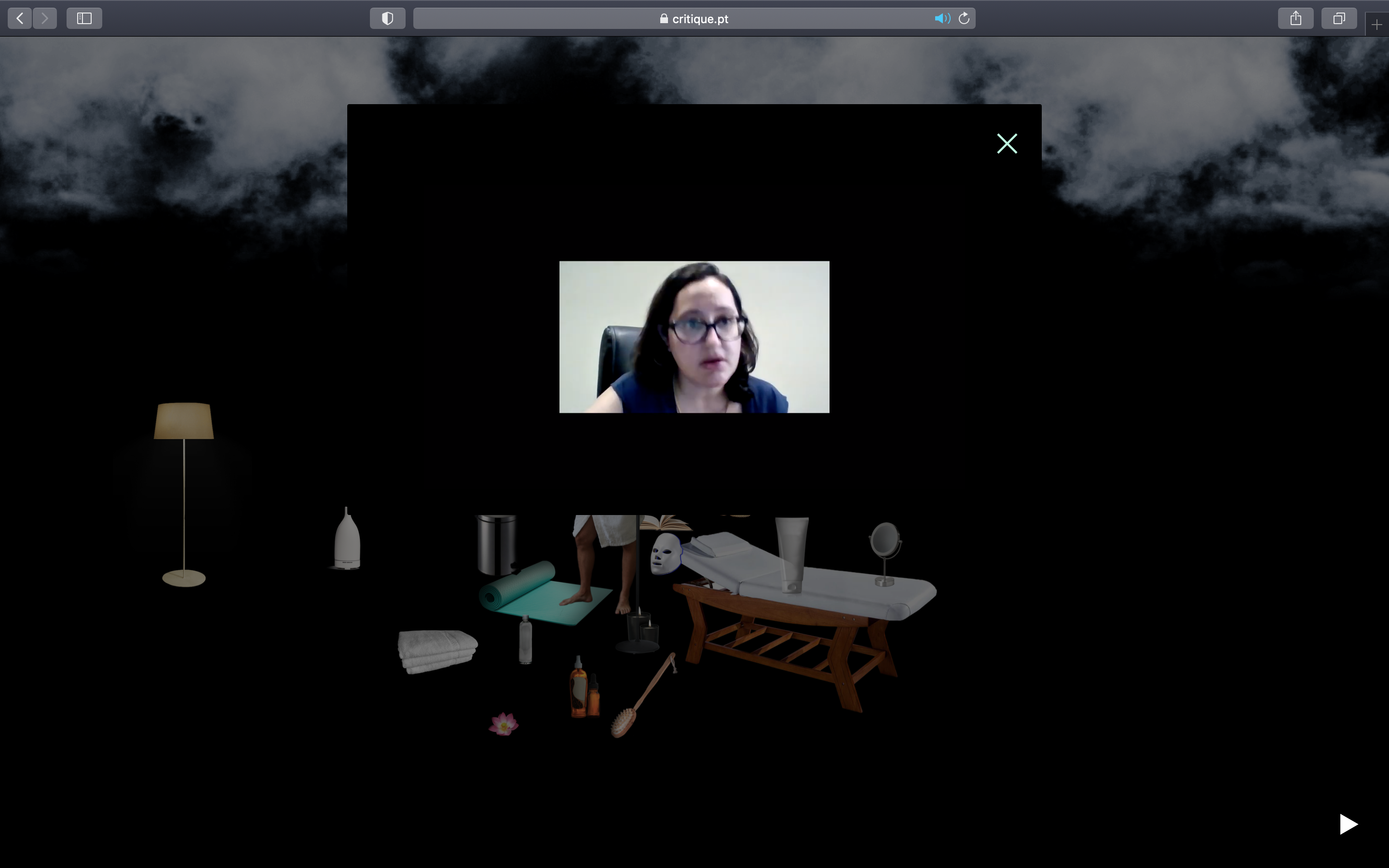 CRITIQUE WAS CONCEPTUALIZED BY CHOREOGRAPHER DAVID MARQUES AND ARTIST TIAGO CADETE AS A DIGITAL SPA WHICH CURATED AN OPEN, RELAXING ATMOSPHERE OF CRITICAL THINKING ABOUT THE STATUS OF THE PERFORMING ARTS IN PORTUGAL. I DESIGNED THE SITE TO PROMOTE A SOOTHING ATMOSPHERE WHERE FAMILIAR ICONS OF TRANQUILITY AND SPA CULTURE FLOATED ON A BLACK BACKGROUND WHICH INVITED THE USER TO INTERACT, REPOSITION AND COMPOSE THE SCENE TO THEIR LIKING. EMBEDDED BEHIND EACH CLICK AND DRAG ICON USERS WOULD FIND THOUGHTFUL QUESTIONS POSED AND POP-UP VIDEOS FROM FIGURES RELATED TO THE CRITIQUE OF THE ARTS. I ADDED NEW ICONS AND SUBSEQUENT QUESTIONS AND VIDEO WEEKLY, INVITING USERS TO RETURN TO THE SITE AND EXPANDING THE SCOPE OF ARTIST'S ORIGINAL CONCEPT.
ORÁCULO
WEBSITE DESIGN + CODING
ORÁCULO (ORACLE) IS A PERFORMANCE BY THE PORTUGUESE CHOREOGRAPHERS SARA ANJO AND TERESA SILVA. I WAS ASKED TO DESIGN A SIMPLE BUT IMPACTFUL WEBSITE THAT WOULD FUNCTION AS AN EXTENSION OF THE STAGE PERFORMANCE WHERE UNSEEN CARDS ARE ARRANGED, CHOSEN AND DISPLAYED. I CHOSE TO REFLECT THE ESSENCE OF THE STAGE PIECE BY CREATING A VISUALLY AUSTERE, CONTEMPORARY CAROUSEL, BASED ON THE SHRINE OF THE ORACLE AT DELPHI IN ANCIENT GREECE, SET ON AN INFINITELY ROTATING LOOP WHEREBY THE USER CAN CHOOSE THE CARDS FOR THEMSELVES AT RANDOM.
HELMUT LANG - TSHIRT CONTEST
GRAPHIC DESIGN
IN 2020, I ENTERED A DESIGN CONTEST ANNOUNCED BY HELMUT LANG, INVITING THE PUBLIC TO PITCH AN ORIGINAL GRAPHIC EXPRESSING THE THEME "STAY HOME" IN THE MIDST OF OF THE EARLY COVID-19 PANDEMIC. I BEGAN WITH SCANNING, PRINTING AND COLLAGE BASED ON RUBBER GLOVES I HAD BEEN USING DAILY ON SHOPPING TRIPS. I SETTLED ON SIMPLICITY AND USING THE GLOVES SIMULTANEOUSLY AS SYMBOLS OF INTIMACY AND DISTANCE, MARKERS OF HUMAN TOUCH AND AS WELL AS PROTECTION, BUT IN RICH COLORS DEVOID OF THE COLD MEDICALIZED COLOR PALETTE. THE CONCEPT OF TOUCH AS A LUXURY. I CHOSE TO HAND WRITE THE LABEL INSTEAD OF EMPLOYING THE OFFICIAL FONT AND LOGO TO FURTHER ADD TO THE AIR OF INDIVIDUALISM AND REFLECT THE ALMOST D.I.Y. NATURE OF CLOSENESS AND PROTECTION WE HAD TO DECIDE ON FOR OURSELVES IN THAT TIME.